4 Local PPC Management Strategies that Boost Local Traffic to our website. Google Ads isn't just for online, eCommerce companies anymore! Local businesses can see an increase in online and foot traffic by using Google Ads to get found in the right place at the exact right time and to stand out from the competition. Here are 4 local PPC strategies to use in your campaign now!
4 Local PPC Marketing Strategies
Location & Call Extensions
There are two ad extensions in Google Ads that you will definitely want to use to your advantage in a local PPC strategy: the call extension and location extension.
The call extension will display your store's phone number in your ads, but it will be displayed differently on mobile devices and desktops
For desktop searches, Google will show your phone number next to your display URL:

On mobile devices, there is a Call button in your ad that the customers can click to call your store immediately. This is great for restaurants, retail stores, or any local business!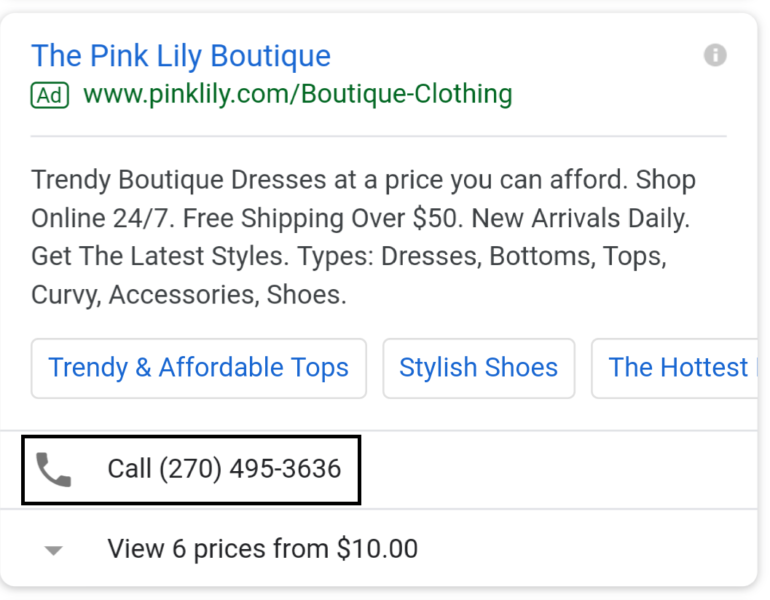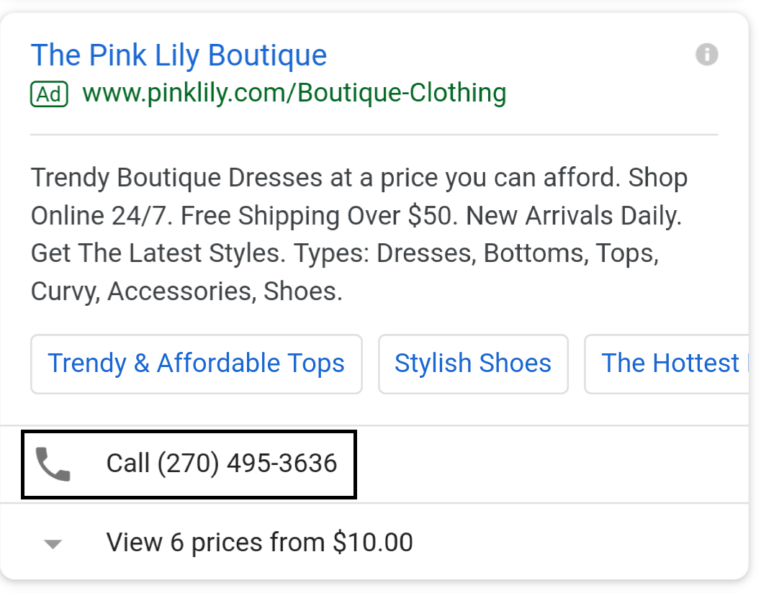 4 Local PPC Management Strategies that Boost Local Traffic
The location extension pulls information from your Google My Business page. Depending on what you have on your Google My Business page. This extension will display not only the address of your store. But also store hours, phone number (without the Call button that the call extension uses), and your star rating that can be found on your Google My Business page. And as if this ad extension could get any better, your address is shown as a link to Google Maps, making it super easy for your customers to find you!

Radius Targeting
When you're a local business, it's important to take advantage of radius targeting. Around your address when setting up your geotargeting. It's always a good idea to create a campaign with a geo-targeted area of 5-10 miles around your store. Or whatever makes the most sense for your business. This works particularly well for branded terms, like your business's name. If someone's in the area and they're looking for you, that helps them find you quickly and easily.
In a radius targeted campaign, create promotional ad copy to drive customers to your store. If your store is running a weekly special, for instance, create ads specifically for that special. Give potential customers a sense of urgency to come or call today! Just don't forget to pause the ads when the special is over.
We recommend only having these campaigns show ads during business hours, so be sure to set up ad scheduling. It wouldn't make much sense to pay to run ads that send people to a place that's not open!
Mobile Device Bidding
When you create a campaign with a geo-target set around your store, another thing to consider is device bidding. Did you know you can set bid adjustments based on which device a customer is using? By adding an increased bid adjustment to mobile, desktop, or tablet, Google will automatically increase your bids by whatever percentage you choose.
Before setting a device bid adjustment, it is important to evaluate your conversion data from each separate device to make sure you are getting the most bang for your buck.
Bidding On Your Competitor's Terms
Bidding on your competitor's branded keywords is a way to get in front of customers who may not know that your company has a location in that area. We don't recommend using the competitor's brand name in your ad copy though. Make sure to keep your ads relevant to you.
By making the most of your Google Ads account as a local business, you'll see an increase in foot traffic to your store and you'll find new customers who are ready to buy your product or patronize your business. Don't let your competition steal your customers by not taking advantage of local ads!